In order to strengthen the cooperation and exchange with Yanshan University in international engineering education, TIAN Huijun, LI Zhengwen and CHEN Huimin from ICEE came to the College of International Education, Yanshan University on December 5, 2019 to conduct a field survey to the school's admission and teaching of overseas students and to discuss the follow-up cooperation between the two sides.
On the morning of December 5, HUANG Sheng, Deputy Secretary of the Party Committee, ZHANG Wenli, Deputy Director of Division of International Cooperation, and JIANG Yongchao, Head of Chinese Program for Foreign Students, College of International Education, Yanshan University received the teachers from ICEE at the Conference Room 1910, Century Building, Yanshan University.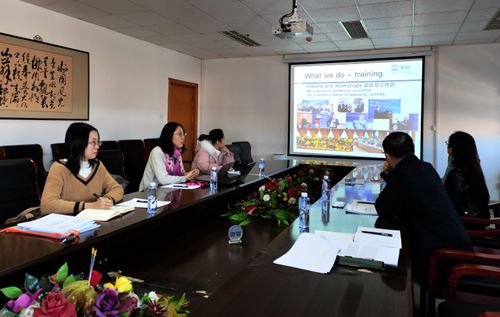 First, on behalf of ICEE, TIAN Huijun introduced the founding background of ICEE and its academic activities conducted within the framework of UNESCO such as think tank-based research, engineering and technological talent development, and international forums and workshops on engineering education to the leader of Yanshan University and the head of its Division of International Cooperation. Particularly, she introduced the international training course on engineering education, i.e., the Micro-Diploma in Computer Science (MDCS) Blended Training Project, which has been offered for three consecutive years from 2017 to 2019.
Offered in an online+offline manner, the MDCS project is a commonweal project on the engineering education knowledge service platform, and aims to further implement the sustainable development goals of UNESCO, boost the engineering education cooperation with countries along the Belt and Road, and particularly focus on education and training of female engineers. In the past three years since its launch, the training project has achieved good results, highlighting the innovative education philosophy and the features of the engineering education sub-platform of IKCEST. Finally, TIAN Huijun introduced the curriculum planning and time schedule of MDCS in 2020, and welcomed foreign students from the College of International Education, Yanshan University to proactively participate in the online and offline learning.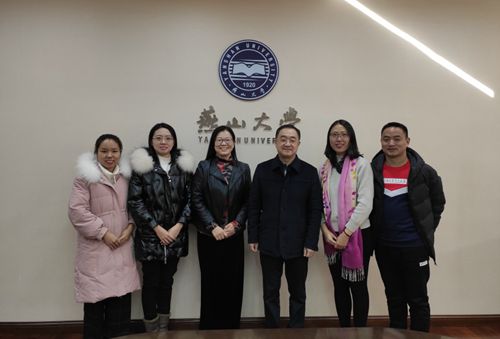 After listening to the introduction by TIAN Huijun, Deputy Secretary HUANG Sheng from Yanshan University firstly welcomed the visitors of ICEE, and then introduced the evolution of Yanshan University, its engineering teaching characteristics, efforts made in international cooperation and exchange, and education of overseas students in recent years. ZHANG Wenli and JIANG Yongchao introduced the number, composition of source, education, teaching and training of foreign students at Yanshan University. During the talk, the both sides said that there's space for future cooperation in academic workshops for faculty, and the MDCS blended training project, among others. The both parties would have more discussions in the future for cooperation in specific work.
(Source: ICEE)