The International workshop for youth and young professionals in disaster risk reduction research: mobilizing youth through international collaboration was held in Cheng du, Sichuan Province on December 6-8, 2019. Members of IKCEST Disaster Risk Reduction Knowledge Service System team attended this conference. The overall objective of the workshop is to stimulate discussion among youth and young professionals in Asia and the Pacific countries to strengthen the coordination and collaboration to work on their science, engineering, technology, and innovation capacity to contribute to disaster risk reduction at national and global levels.
Focusing on the sustainable development goals of the United Nations and the sendai framework for disaster reduction 2015-2030, the workshop strengthened coordination and cooperation among young scholars, conducted cross-border and interdisciplinary research on disaster reduction, and encouraged young people in the Asia-pacific region to deepen exchanges in disaster science, engineering, technology and innovation(SETI). The conference brought together more than 50 foreign experts, scholars and students from 19 countries including Afghanistan, India, Indonesia, Iran, kazakhstan, Madagascar, Malaysia, Japan and Thailand.
The main contents of the seminar included basic introduction to U-INSPIRE and to related regional and global programs promoting youth and young professionals on DRR research; introduction to efforts in additional countries, Career Pathways in DRR research; and brainstorming sessions on strengthening Coordination and Collaboration among Youth and Young Professionals in SETI for DRR at regional and global levels; and developing concrete plans for future activities.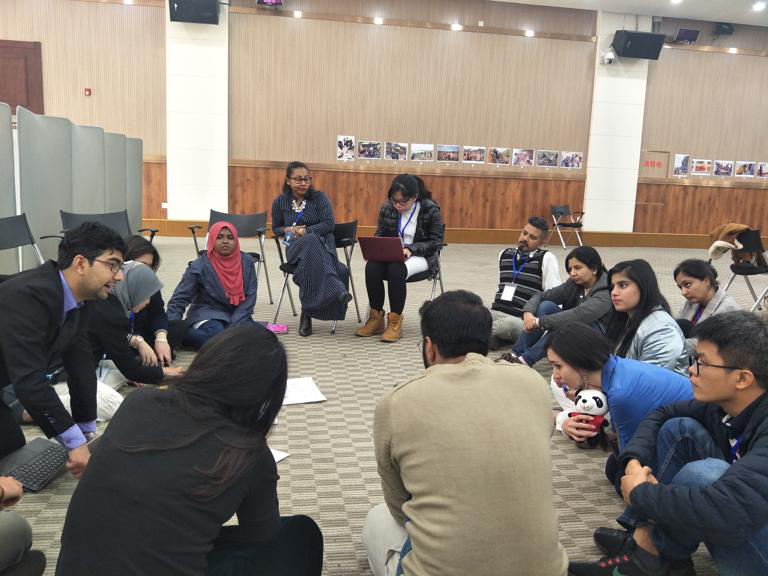 Fig 1 Break-out session