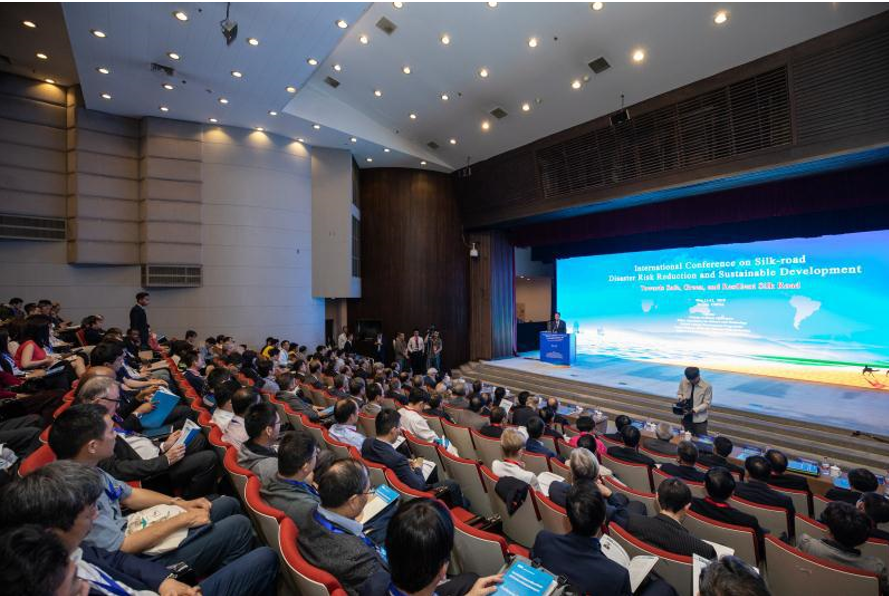 BEIJING, May 11 (Xinhua) -- Efforts are being called for strengthening science and technology innovation and cooperation among countries along the Belt and Road (B&R) to reduce disaster risk and build a safe, green and resilient B&R.
The call came from the International Conference on Silk-road Disaster Risk Reduction and Sustainable Development, which opened in Beijing Saturday and was attended by more than 780 experts and scholars from over 40 countries and regions.
The conference aims to build a new platform for international coordination in disaster reduction, and provide scientific and technological support for the joint construction of B&R and the common prosperity of all countries.
Delivering a speech at the conference, Bai Chunli, president of the Chinese Academy of Sciences, said the Silk Road area was affected by various disasters. The economic loss related to disasters in this area was twice of that of the world average. Mortality in this area is also high.
"In this regard, we are committed to reducing disaster risks and making efforts for sustainable development," said Bai, who is also the president of Alliance of International Science Organizations.
In a video speech, Mami Mizutori, the special representative of the UN Secretary-General for Disaster Risk Reduction and head of the UN Office for Disaster Risk Reduction, told the conference that the Belt and Road Initiative was one of the most important large-scale infrastructure development projects being carried out in the world.
The sheer scale and reach of the initiative means that it will impact billions of people and will reshape the physical world where they live. Any country or region investing in large-scale infrastructure development has a duty to not harm the environment within which the development takes place and at the same time to people who inhabit it, Mizutori said.
"It is encouraging that the government of China is taking proactive measures to ensure that the development of the Belt and Road Initiative is risk-informed and sustainable."
She said disaster-proofing the world's largest infrastructure initiative was a challenge, but achievable. At the heart of this challenge, lies potential for great innovation and creativity.
Scientists and researchers can use this opportunity to create a new wave of innovation in disaster-resilient infrastructure and wide-scale disaster risk reduction, invent new methods for rapid and accurate risk analysis, develop affordable and transferable solutions for risk reduction and mitigation, and formulate new standards for resilience, by which all construction and infrastructure development can be judged. The impact of such innovation will certainly benefit the Belt and Road Initiative and beyond, she said.
Huang Runqiu, vice minister of China's Ministry of Ecology and Environment, said disaster risk reduction of geological hazards along the B&R was critical to its success.
He said that due to the strong tectonic movement, rugged terrain, fragile geo-environment and extreme climate, many regions, especially the Tianshan-Pamir Plateau, Himalayas, the eastern part of the Qinghai-Tibet Plateau and South Asia, were severely affected by different kinds of geo-hazards, such as landslides, debris flows and glacial lake outburst floods.
He called for international collaboration in linking research facilities and sharing knowledge to create a more effective disaster risk reduction platform and build a safe B&R.
An alliance of international science organizations on disaster risk reduction is expected to be set up at the two-day conference.
Sources:
China Focus: Int'l collaboration stressed for reducing disaster risk along B&R,http://www.xinhuanet.com/english/2019-05/11/c_138051246.htm?from=timeline&isappinstalled=0
Provided by the IKCEST Disaster Risk Reduction Knowledge Service System